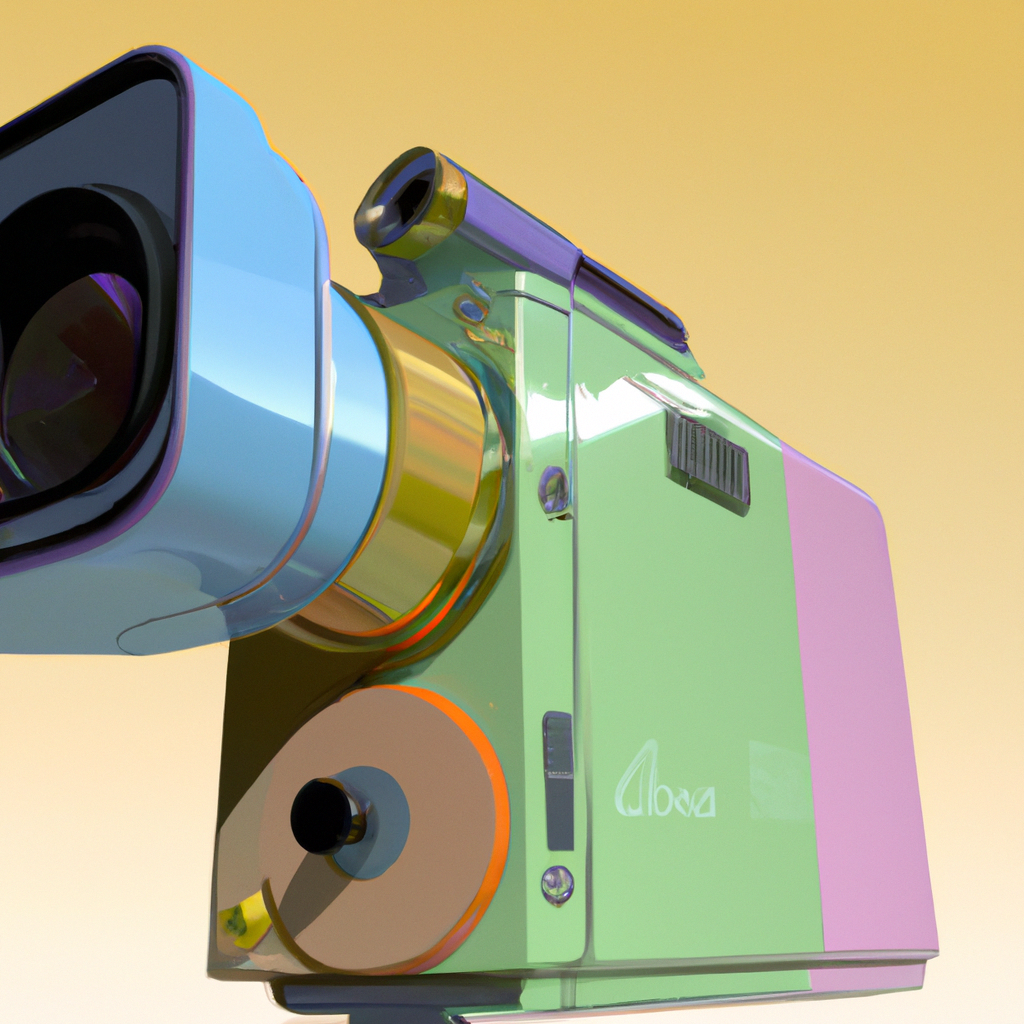 Introduction
Camcorders are essential devices for capturing and preserving important life moments. When searching for the top camcorders, it's key to consider factors such as video quality, size, and functionality.
Our top picks feature cutting-edge technology and user-friendly interfaces that offer a seamless experience when shooting high-quality videos. From compact designs to advanced features like stabilization systems and built-in Wi-Fi connectivity, our selection caters to all needs.
With so much to choose from, don't miss out on the opportunity to find the perfect camcorder for your needs.
Looking to capture the perfect moment? These top camcorders will help you relive it in stunning detail, or at least until your next family argument over who's hogging the TV.
Top 5 Camcorders
To help you choose the best camcorder that fits your needs, we present you with the top 5 camcorders with their specifications and features. In this section, we will introduce you to each of the camcorders and highlight their advantages as the solution. The sub-sections include Panasonic HC-V770K Full HD Camcorder, Canon VIXIA HF G21 Full HD Camcorder, Sony HDR-CX675 Full HD Camcorder, Panasonic HC-WXF991K 4K Ultra HD Camcorder, and Canon XA11 Professional Camcorder.
Panasonic HC-V770K Full HD Camcorder
This camcorder captures stunning videos with its high-sensitivity BSI sensor and advanced stabilization system. Its Wi-Fi connectivity enhances user experience, allowing for remote shooting and live streaming. Here is a breakdown of the Panasonic HC-V770K Full HD Camcorder.
| Feature | Description |
| --- | --- |
| Sensor Resolution | 12.76 Megapixels |
| Zoom Range | 20x Optical, 50x Intelligent Zoom |
| Recording Media | 2 x SD Card Slots; compatible with SD/SDHC/SDXC cards (not included) |
| Battery Life | Up to 1 hour, 15 minutes recording time on a single charge (included battery) or up to about an hour while livestreaming. |
In addition to its impressive features mentioned above, the HC-V770K also has a built-in microphone that records in remarkably clear quality and includes a wind-noise reduction feature to diminish distortion caused by the wind during outdoor recording.
For better focus control and increased creative freedom, this camcorder includes manual focus rings along with zoom levers that are easily accessible for use at any time.
We recommend investing in an extra battery or two so you can record for longer periods without interruption. Additionally, purchasing an external microphone can provide even further enhancement of audio quality during video shoots as well. Both options maximize your investment in this powerful camcorder while yielding even higher quality results for end-users at each step of the recording process.
Capture every awkward family moment in stunningly clear high definition with the Canon VIXIA HF G21 – perfect for cringe-worthy home videos!
Canon VIXIA HF G21 Full HD Camcorder
This HD Camcorder has highly reliable in-built features, making it a great choice for professionals. The Canon VIXIA HF G21 has remarkable qualities that provide quality output, producing sharp videos with low noise levels and perfect color balance.
| | |
| --- | --- |
| Feature | Description |
| Image Sensor | HD CMOS Pro Image Sensor (1/2.84″) |
| Lens | Genuine Canon 20x Optical Zoom Lens (29.3mm-601mm) |
| Recording Media | Dual SD Card Slots |
| Shutter Speed Range | 1/2000 – 1/2 Sec. |
The advanced optical image stabilization feature ensures there are minimal distortions or jerky moments when recording on the go. The customizable user settings allow for exceptional performance in various lighting scenarios.
Some suggestions to get the best out of this camcorder would be to adjust the focus manually instead of relying solely on the autofocus feature. The external microphone input provides high-quality directional audio capturing, which makes deep soundscapes livelier and realistic. It is essential to work with an LED light source in dimly lit places to produce bright and refined outputs.
Capture life's moments in stunning HD with Sony's HDR-CX675 – because memories should be crystal clear, even if your vision isn't.
Sony HDR-CX675 Full HD Camcorder
This feature-rich camcorder, with advanced image stabilization and wireless connectivity, is a perfect fit for any vlogger or storyteller. It boasts Full HD resolution and a 26.8mm wide-angle Carl Zeiss lens that captures every exquisite detail of your subject.
| Features | Details |
| --- | --- |
| Resolution | Full HD 1080p/60fps |
| Lens Type | Carl Zeiss Vario-Tessar |
| Focal Length (35mm equivalent) | 26.8mm–536mm (20x Optical Zoom) |
| Image Stabilization Type | Balanced Optical SteadyShot™ with Intelligent Active Mode (5-axis) |
This camcorder has built-in Wi-Fi/NFC capabilities that provide easy sharing and remote control through compatible devices. In addition, the HDR-CX675 features dual video recording options where you can record simultaneously in XAVC S or AVCHD format.
For those on the go, this camcorder also features a long battery life up to 275 minutes of recording time. Capture all those special moments with confidence knowing you won't miss any of the action.
Don't miss out on creating lasting memories with this advanced camcorder packed full of features for both amateur and professional videographers alike. Capture every awkward family moment in stunning 4K detail with the Panasonic HC-WXF991K camcorder, perfect for creating holiday footage that your relatives will be forced to watch for years to come.
Panasonic HC-WXF991K 4K Ultra HD Camcorder
Capturing high-quality footage just got easier with this top-performing camcorder. The device in question comes packed with incredible features that make it stand out from the rest.
Below is a table highlighting some essential specs of this impressive camcorder:
| Features | Specs |
| --- | --- |
| Resolution | 4K Ultra HD |
| Optical Zoom | 20x |
| Sensor Type | MOS |
| Image Stabilizer | Hybrid O.I.S |
| Recording Media | SD Card slot |
In addition to the features outlined above, this camcorder comes equipped with additional functionalities like Wi-Fi connectivity for easy sharing and transfer of footages. Furthermore, the built-in microphone and headphone jacks allow for superior sound recording that brings videos to life.
For those looking for an excellent choice of camcorders to capture life's precious moments, consider investing in this top-tier device. Its features are sure to impress even the most discerning videographers. One tip for getting the most out of this camcorder is to invest in quality lenses that complement its capabilities. This enhances the performance and guarantees even better results during filming sessions.
Capture your memories in stunning quality with the Canon XA11 – or use it to film your ex's wedding and zoom in on their tears of regret.
Canon XA11 Professional Camcorder
This high-end camcorder, manufactured by Canon, is a standout choice for professional videographers. The Canon XA11 boasts many impressive features necessary for high-quality video production.
| Features | Specifications |
| --- | --- |
| Lens | Genuine Canon 20x High Definition Optical Zoom Lens and Advanced HD CMOS Pro Image Sensor |
| Video Format | MPEG-4 AVC / H.264 AVCHD and MP4 Recording with Dual SD Card Slots; Slow and Fast Motion Recording Supported |
| Audio Quality | Built-In Microphone; XLR Inputs; PCM Linear Audio System with Manual Volume Control |
| Display Screen | OLED Touch Panel View Screen; Tiltable color electronic viewfinder; |
Beyond the aforementioned features, the Canon XA11 also includes an infrared night mode and optical image stabilization. These details make this camcorder an excellent option for capturing footage in difficult lighting conditions.
When it comes to capturing high-quality video content, the Canon XA11 Professional Camcorder is a wise investment. Its powerful features allow videographers to achieve superior results that will captivate audiences.
Don't miss out on the opportunity to elevate your video production quality – consider investing in the Canon XA11 Professional Camcorder today. Because sometimes, the only thing standing between you and a bad purchase is a good buyer's guide.
Buyer's Guide
To choose the top camcorder that suits your needs, this buyer's guide with factors to consider when choosing a camcorder, types of camcorders, and camcorder features will be your solution. By understanding the differences between these sub-sections, you'll be able to make an informed decision and choose the right camcorder for your specific purpose.
Factors to Consider when Choosing a Camcorder
When selecting a camcorder, it is crucial to pay attention to specific factors that will determine the suitability of the device for your intended use. Below are key considerations for choosing a camcorder:
| | |
| --- | --- |
| Factor | Description |
| Sensor Size | The size of the sensor affects image quality and low light performance. |
| Zoom Range | To capture distant objects, consider a camcorder with optical zoom range |
| Image Stabilization | A feature that prevents shaky videos is essential for smooth and steady recordings. |
Other factors to consider include battery life, storage capacity, audio quality and connectivity options.
It's worth noting the intended purpose of the camcorder since some features may be unnecessary or irrelevant depending on whether it's for personal use or professional needs.
A study conducted by CTA (Consumer Technology Association) revealed that 4K UHD (Ultra high-definition) resolution was the most popular feature among consumers when purchasing camcorders.
Whether you're filming a blockbuster or a home movie, the type of camcorder you use will determine if your footage looks like Spielberg or a shaky-cam horror flick.
Types of Camcorders
When selecting a recording device for capturing memories, it's crucial to know which type of gadget will fit your needs best. There are different varieties of video cameras available in the market designed explicitly for specific purposes.
In terms of the available Types of Camcorders, manufacturers have divided them into five categories:
Pocket – less than 2 inches – Lightweight and small with decent resolution
Action – 1-2 inches – Waterproof and durable for action-packed outdoor activities
Prosumer – 2-3 inches – Slightly bigger with high-end features for semi-professional use
Professional – 3+ inches – Large and high-tech functions suitable for filmmakers or broadcast journalists
Traditional – Old model sizes – Typically used by professionals in television production or multinational companies
Apart from size differences, there is also a variation between frame rate quality, zoom capabilities, image stabilization technology among other specifications.
It's interesting to note that camcorders revolutionized home video-making forever. Many were bulky pieces of equipment initially used by television stations before being gradually downsized over time. Nowadays, they are compact yet powerful devices that allow anyone to capture memorable moments of joy in high quality.
Capture all your embarrassing moments in high definition with these camcorder features, because memories are better when they're cringe-worthy.
Camcorder Features
Camcorder Capabilities:
Camcorders come with many advanced features that can enhance your video recording experience. Here are some of the capabilities that you should consider before purchasing a camcorder:
Image and Video Quality: The primary function of a camcorder is to capture high-quality videos and images. Look for one that provides detailed, sharp, and vivid images with vibrant colors and excellent low-light performance.
Optical Zoom: This feature is essential for videographers who want to capture distant objects. Ensure that your camcorder has an optical zoom lens rather than a digital zoom as it maintains image quality.
Manual Controls: Professionals prefer versatile camcorders with manual controls over automatic settings. Make sure your camcorder allows for individual adjustment of shutter speed, ISO, aperture, and focus.
Additional Considerations:
In addition to the above features, many other aspects merit deliberate consideration. Take into account factors such as battery life, size and weight, storage capacity, connectivity options like Wi-Fi or HDMI output.
Don't Miss Out!
Don't forget to keep these factors in mind when selecting your ideal camcorder! In today's world where video sharing is ubiquitous on social media platforms, capturing high-quality videos is more critical than ever. Choose a camera that fits your professional or personal needs so you'll feel satisfied confidently by sharing endlessly online.
Whether you're a savvy shopper or a compulsive buyer, this guide will help you spend your money wisely (or recklessly, if that's your thing).
Conclusion
Here, we have explored the top camcorders available in the market. What stands out about these camcorders are their superior image quality, advanced features and ease of use. It is clear that the video camera industry has come a long way in terms of technology and innovation.
When considering buying a camcorder, there are several factors to take into account such as budget, required features and personal preference. We have provided compare charts and detailed reviews to make this decision-making process simpler for you.
Beyond the basic features of resolution and zoom, some standout features include night vision mode, high-speed recording, built-in memory and external microphone inputs. These allow for greater flexibility during filming and enhance the overall quality of captured video.
If you're looking for a more professional-grade camcorder with advanced features such as interchangeable lenses or extensive manual controls, we recommend exploring options from higher-end brands like Canon or Sony.
At the end of the day, choosing a camcorder that meets your specific needs is crucial. Whether it's for shooting home videos or professional gigs, there is a perfect camcorder out there waiting for you.
Frequently Asked Questions
Q: What are the top camcorders in the market today?
A: Some of the top camcorders in the market today include the Sony HDR-CX405, Panasonic HC-V770, Canon VIXIA HF G21, Sony FDR-AX100, Panasonic HC-X1000, and Canon XA11.
Q: What are the factors to consider in choosing a camcorder?
A: Some factors to consider when choosing a camcorder include the type of camcorder, image and video quality, lens, zoom features, battery life, storage options, and price.
Q: What is the difference between a camcorder and a DSLR camera?
A: Camcorders are designed specifically for video recording and offer features such as long recording times, built-in microphones, and image stabilization. DSLR cameras, on the other hand, are primarily designed for photography and offer features such as interchangeable lenses and larger image sensors.
Q: What is the best camcorder for recording sports?
A: The best camcorder for recording sports is one that offers fast autofocus, good image stabilization, and a long zoom range. Some great options include the Sony FDR-AX100, Panasonic HC-V770, and Canon VIXIA HF G21.
Q: What is the average lifespan of a camcorder?
A: The average lifespan of a camcorder is around five years, but this can vary depending on usage and maintenance.
Q: How much do top camcorders cost?
A: Top camcorders can cost anywhere from around $300 for entry-level models up to $3000 or more for professional-grade models.