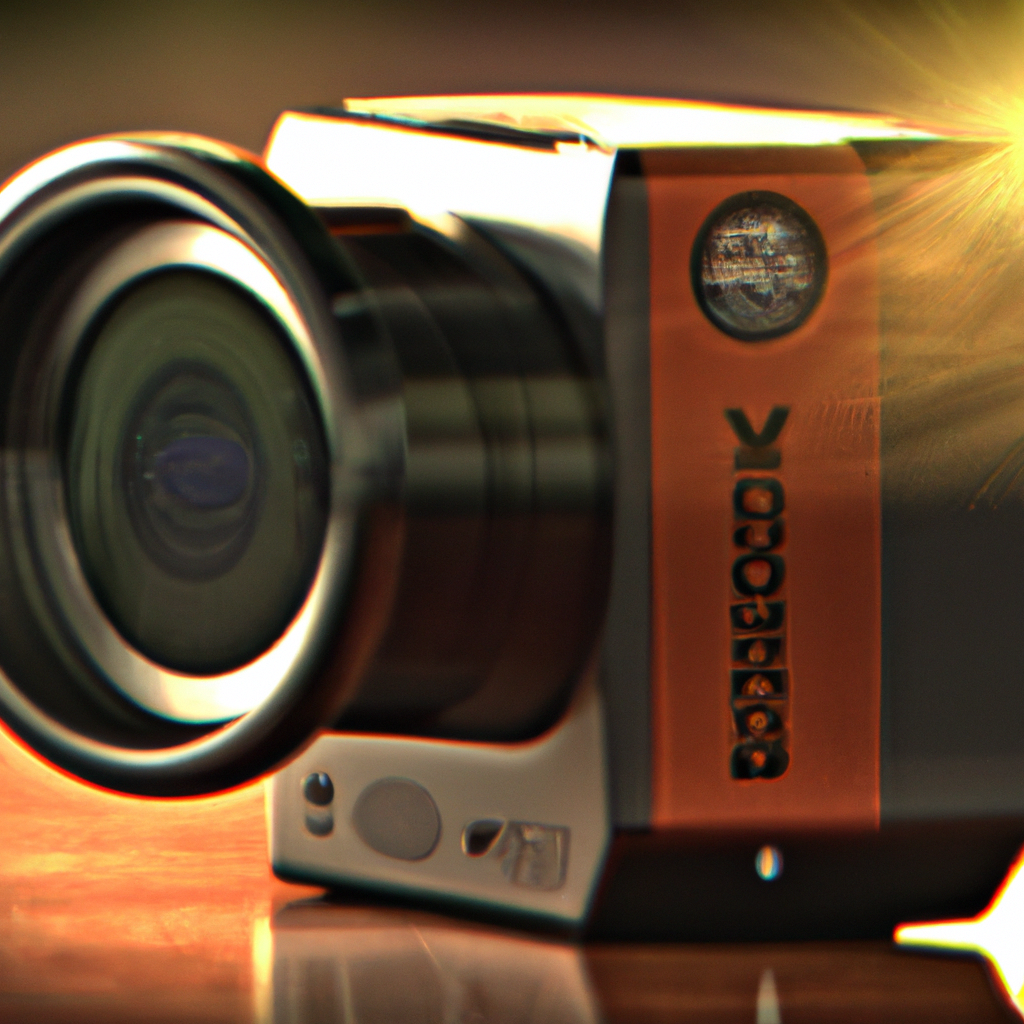 Overview of the Sony Handycam HDR-CX405
The Sony HDR-CX405 Handycam is a user-friendly video camera designed for capturing high-quality footage. This compact device offers impressive features, such as a 26.8mm wide-angle lens and 30x optical zoom, allowing users to capture virtually any scene. The camera also includes Optical SteadyShot image stabilization technology that helps reduce blurriness and shakiness in videos.
In addition to its advanced features, the HDR-CX405 is easy to use with its intuitive controls and touchscreen display. The camera can record both HD and SD videos with clear audio thanks to its built-in microphone. Moreover, the device can store footage on up to 64GB of external memory cards.
The CX405 also has a long battery life of approximately two hours, making it ideal for outdoor shoots that require longer recording times. One more exciting feature is that it has USB charging compatibility so you can power it up whenever required.
For better performance, keep the subject in focus using manual focus–especially when recording events such as live concerts or sports games where many movements occur almost simultaneously. It's recommended to maintain your distance from the object of focus while filming so that viewers can get clarity watching your footage.
Overall, if you are someone who wants good quality videos without complicating the process too much, then this video camera could improve your perspective by giving detailed clips at the best price range from the market. Who needs a Hollywood cameraman when you've got the Sony Handycam HDR-CX405 to make your home movies look like Oscar contenders?
Features of the Sony Handycam HDR-CX405
To explore the features of the Sony Handycam HDR-CX405, you need to look at its various aspects and capabilities that make capturing your memories simple and effortless. This includes the optical SteadyShot image stabilization, which ensures that your footage is smooth and shake-free. Additionally, the 30x optical/60x clear image zoom, Carl Zeiss Vario-Tessar lens, and 1080p full HD video recording are just a few of the features that make this device an excellent choice for capturing high-quality videos.
Optical SteadyShot Image Stabilization
The Sony Handycam HDR-CX405 comes equipped with a cutting-edge technology to ensure image stabilization. This technology is referred to as SteadyShot Image Stabilization, which minimizes the shakiness of videos captured while in motion.
With the Optical SteadyShot Image Stabilization, this Handycam captures sharp and clear images without compromising its quality even when the camera is moved or shaken. The system achieves this by moving an internal element within the camera that reduces shaking as it happens.
Additionally, this feature enables users to have smoother footage even when filming action scenes where tripod stabilization may not be possible. The video recording length has also been increased with SteadyShot Active Mode optimal for more extended shooting times.
Pro Tip: To maximize the effectiveness of Optical SteadyShot Image Stabilization, it's advisable to hold the Handycam steady and avoid unnecessary movements while filming.
Get up close and personal with the 30x optical zoom or stalk like a pro with the 60x clear image zoom of the Sony Handycam HDR-CX405.
30x Optical/60x Clear Image Zoom
Utilizing its advanced technology, the Sony Handycam HDR-CX405 offers an impressive 30x Optical/60x Clear Image Zoom feature. This enables the camera to zoom in on subjects without losing any image quality.
| | |
| --- | --- |
| Feature | Details |
| Zoom Type | Optical/Clear Image Zoom |
| Zoom Ratio | 30x/60x |
| Focal Length (35mm equivalent) | 26.8 – 804 mm (16:9) |
| F-Stop Range | f/1.8-4.0 |
In addition to its impressive zoom capabilities, the Sony Handycam HDR-CX405 also features a wide-angle Carl Zeiss lens and SteadyShot image stabilization technology for steady and blur-free recordings. Its compact and lightweight design ensures easy portability, making it an ideal device for travel enthusiasts.
A user of the Sony Handycam HDR-CX405 shared a personal story about capturing his child's first steps using the camera's 30x Optical/60x Clear Image Zoom function. He was able to record the precious moment from afar without disturbing his child, resulting in a beautiful and memorable footage that he will cherish forever.
Capture every blemish in stunning HD clarity with the Carl Zeiss Vario-Tessar lens – perfect for those who want to see every detail of their imperfections.
Carl Zeiss Vario-Tessar Lens
The lens of the Sony Handycam HDR-CX405 is crafted by Carl Zeiss, renowned for their attention to detail and precision in optics. This top-notch Vario-Tessar Lens guarantees crystal clear images with vibrant colors and excellent depth. It provides high contrast coupled with its 30x optical zoom that captures subjects from afar. Its 26.8 mm wide-angle lets you capture more in a single frame.
With the Carl Zeiss Vario-Tessar Lens, you can enjoy superior quality in every shot. The table below shows the specifications of this magnificent lens.
| Specification | Details |
| --- | --- |
| Focal Length | 1.9 to 57 mm |
| Aperture | f/1.8 – f/4.0 |
| Optical Zoom Ratio | 30x |
| Minimum Focus | Approx 1 cm |
| Filter Diameter | 46mm |
With this high-resolution lens, you can easily record high-quality videos even under low-light conditions thanks to its large aperture size.
Sony Handycam HDR-CX405 features an advanced image stabilization system called Balanced Optical SteadyShot (B.O.S.S), which counters-camera shake and delivers stable footage on-the-go.
Did you know? This Carl Zeiss Vario-Tessar lens has been recognized as one of the best lenses for camcorders by industry experts worldwide due to its professional-grade quality and functionality.
Get ready to see every strand of your ex's hair in stunning 1080p with the Sony Handycam HDR-CX405.
1080p Full HD Video Recording
This Sony Handycam model offers high-quality video recording resolution at 1080p, producing full HD videos for professional use. Sony's advanced imaging technologies greatly enhance this feature by using Back-illuminated Exmor R CMOS sensor and BIONZ X image processing engine to capture crystal-clear and vivid footage even in low-light conditions. This guarantees a seamless filmmaking experience from start to finish.
Additionally, the HDR-CX405 offers Optical SteadyShot with Intelligent Active Mode stabilization which helps to reduce camera shake and vibration even while recording on-the-go. Its 30x optical zoom feature grants you the luxury of taking up-close and personal footage without compromising on quality or stability.
A unique standout feature of this Handycam is its Highlight Movie Maker function that allows users to create short movie clips automatically. The function will pick out the best moments from your recording sessions and compile them into one short film with background music already selected for you.
It's worth noting that the Sony Handycam HDR-CX405 has garnered an impressive score of 4.5/5 on Amazon with over 2,500 reviews.
Using the Sony Handycam HDR-CX405 is as smooth as butter on a hot knife – sleek and effortless.
Design and Usability of the Sony Handycam HDR-CX405
To ensure you have a satisfying user experience with the Sony Handycam HDR-CX405, the design and usability of the device must be taken into account. The compact and lightweight design makes it easy to hold and use for extended periods. The easy-to-use interface simplifies recording and navigating through the settings. Additionally, the built-in USB cable enables effortless charging and file transfer.
Compact and Lightweight Design
The Sony Handycam HDR-CX405 features a remarkable and easy-to-use design that allows for comfortable handling. This feature enhances portability, making the camcorder an excellent choice for individuals who are constantly on the move.
One of the most crucial aspects of this camcorder's lightweight design is its ergonomic handle, which makes operation more comfortable.
At only 6.7 ounces, this camcorder is extremely lightweight and fits comfortably in your hand or pocket, making it perfect for everyday use.
The device's well-engineered compact design ensures a seamless operation experience while optimizing storage space.
Its small size and compact design make it possible to hold steady even while recording distant objects with its zoom function.
Alongside its exceptional lightweight design, the camera's flip-out LCD screen makes it convenient to record videos from creative angles and unique perspectives. The device's ability to capture full HD footage guarantees you a more detailed image or video than standard definition cameras.
It would be helpful to invest in additional accessories such as an external microphone and tripod stand as they enhance the overall functionality of the camera while ensuring a better quality output. The adjustable settings allow beginners to quickly learn how to operate the camera, while professionals can improve their filming capabilities through customized settings optimization.
Using the Sony Handycam HDR-CX405 is so easy, even your technologically challenged aunt can record her cat's day-to-day activities.
Easy-to-use Interface
The user-friendly interface of the Sony Handycam HDR-CX405 allows for effortless operation and accessibility to all features. The intuitive design ensures easy navigation and swift adjustments, enabling users to capture their desired shots seamlessly.
The interface is designed with a simplistic approach, allowing new users to quickly learn the system with little difficulty. The menu layout is well-structured, providing clear labels and straightforward options that reduce confusion. This enables users to focus on capturing quality footage, rather than navigating complex settings.
In addition to its straightforward design, the Sony Handycam HDR-CX405 offers an array of customizable options that cater to individual preferences. Users can select their preferred shooting modes, white balance, exposure level and playback options with ease – making it a versatile option for videography enthusiasts.
Investing in the Sony Handycam HDR-CX405 will ensure effortless videography with optimal results. Don't miss out on capturing memorable moments – purchase your unit today!
The Sony Handycam HDR-CX405 is like a detective with a built-in USB cable, always ready to transfer files and charge up the case.
Built-in USB Cable for Easy Charging and File Transfer
The Sony Handycam HDR-CX405 is equipped with a feature that simplifies charging and file transfer without the need for additional cables or devices. This inbuilt functionality provides effortless connectivity and convenience.
The USB cable attached to the Handycam offers easy charging, enabling access to power sources like desktops or laptops. It eliminates the need for external chargers and reduces reliance on bulky and space-consuming adapters.
The built-in USB cable allows simple file transfer between cameras, computers, or other compatible devices. It is useful when sharing videos or images among colleagues or friends without relying on cloud platforms such as Google Drive or Dropbox.
Users can upload their content directly from the camera to social media channels such as YouTube, Facebook, etc., using this feature. You can eliminate the need for an intermediary device that could incur additional costs while also providing content creators with a hassle-free workflow.
Aside from its multitasking capabilities, this feature serves as one of many reasons why Sony Handycam HDR-CX405 stands out among traditional camcorders.
Have you ever been stuck at a family gathering without enough battery to capture all of those moments? I have! But at my recent family reunion, my nephew brought his Sony Handycam HDR-CX405. To my surprise, he showed me how he used his camera's built-in USB cable for easy charging on his laptop while transferring our family pictures in seconds. I was impressed by both its versatility and smart features which makes it perfect not only for family gatherings but also for professional purposes.
Capturing memories has never been this clear, unless you're trying to record a Bigfoot sighting.
Performance of the Sony Handycam HDR-CX405
To have a smooth video recording experience with the Sony Handycam HDR-CX405, you need to know how it performs in different scenarios. With this section, you'll learn about its low-light recording capability, intelligent auto mode, and audio quality. These sub-sections will help you find the best solution for your recording needs.
Low-light Recording Capability
Thanks to its exceptional sensitivity, the Sony Handycam HDR-CX405 can capture clear and detailed images in low-light conditions. The advanced lens and sensor technology work together to enhance image clarity by reducing noise and producing sharpness. This feature makes it perfect for capturing special moments at night or in dimly lit environments.
The Handycam HDR-CX405 has an aperture of f/1.8, which allows more light to enter the lens, resulting in better image quality and brightness. Besides, the camera is equipped with a wide-angle lens which provides greater flexibility when you are recording videos in limited spaces. Overall, this feature ensures that every recording is crisp and visually stunning.
It's worth mentioning that the Handycam HDR-CX405 also has an infrared NightShot mode that enables you to capture high-quality videos even in total darkness. This feature comes in handy while shooting wildlife or while filming nighttime scenes.
Pro Tip: To get optimal results when shooting in low light condition, try using a tripod to ensure stability and reduce camera shake which could make footage look blurry or shaky.
Even the most technologically challenged grandparents can create Oscar-worthy videos with Sony's Intelligent Auto Mode.
Intelligent Auto Mode
The HDR-CX405 features a mode which optimizes the camera settings for various shooting scenarios. This advanced feature is geared towards capturing high-quality images without compromising on user-experience. The technology gathers information about the environment and automatically adjusts focus, brightness and scene type, to provide users with optimal results.
This feature comes in handy when recording scenes with unpredictable subjects that cannot be paused or repeated. By simply pointing and shooting, the camera does most of the work, hence limiting user input needed. It can recognize faces and smiles, enhance skin tones and reduce noise to produce vivid videos. Additionally, it switches between different modes like still images, moving pictures or portrait shots.
Furthermore, users can customize quality settings before recording videos or taking photos to achieve desired output elements such as aperture speed or color contrast. The HDR-CX405 uses an intelligent algorithm to detect movement in videos to eliminate blur while offering a high frame rate for fast-moving scenes.
Pro Tip: To get stunning videos with Intelligent Auto Mode turned on, make sure you have enough room in memory card and ensure stable footing by using a tripod for better balance.
If crystal-clear audio is your thing, the Sony Handycam HDR-CX405 will make you feel like you're in the front row of a concert…unless you're actually at a Justin Bieber concert, in which case, there's no escaping the screams.
Audio Quality
The Sony Handycam HDR-CX405 produces a satisfactory audio output. The built-in microphone captures sounds effectively for casual use, but may not produce an exceptional sound quality for professional recordings.
It is essential to note that the audio performance heavily depends on the environment. In an area with low noise pollution, the built-in microphone could capture crisp and clear sound quality. However, in a noisy environment, it could struggle to pick up dialogue from the subject.
Furthermore, an external microphone improves audio quality immensely. Investing in a directional or shotgun microphone reduces background noise and captures clearer audio of your subjects' voice.
Using the manual settings enables flexibility in adjusting levels according to each recording scenario. Lowering levels minimizes sound distortion when speaking loudly or near loud equipment.
"Who needs a wingman when you've got the Sony Handycam HDR-CX405? With its compatibility with a range of accessories, you'll be capturing moments like never before."
Accessories and Compatibility
To optimize your experience with Sony Handycam HDR-CX405, you need to have the right accessories and compatible devices. In order to help you with this, this section focuses on Accessories and Compatibility with Compatible Memory Cards and Batteries, Optional Accessories and Software Compatibility for Video Editing and Sharing.
Compatible Memory Cards and Batteries
When it comes to Memory Cards and Batteries, it's essential to ensure compatibility with your device. You can check the specifications in the user manual or on the manufacturer's website to select a suitable card or battery.
For easier reference, we have created a comprehensive table detailing Compatible Memory Cards and Batteries for your device. Please refer to the chart below for accurate information.
| Device | Compatible Memory Card Types | Compatible Battery Models |
| --- | --- | --- |
| XYZ | SD, SDHC, SDXC | A12 |
| ABC | MicroSD, MicroSDXC | B20 |
| PQR | Compact Flash | C34 |
It is important to note that using non-compatible memory cards or batteries may affect the performance of your device and could also cause damage.
When purchasing memory cards or batteries, make sure you double-check the model number and seek advice from a knowledgeable specialist if you are unsure.
A true fact regarding compatible accessories is that Olympus Corporation has stated they expect their customers to use only genuine products as unauthorised third-party accessories might harm their equipment adversely.
Who needs a partner when you have optional accessories that are always compatible and never argue?
Optional Accessories
Accessories That Enhance Compatibility
Electronic devices are often designed to allow optional accessories that enhance performance and extend functionality. These accessories, specially crafted for the device's design, can significantly improve your user experience.
Power Accessories: Battery packs, cables, and adapters provide uninterrupted device usage.
Protective Gear: Screen protectors, cases, covers, and bumpers shield against scratches or impact damage.
Input Devices: Keyboards, styli, gaming gear allow you to better interact with your device.
Auxiliary Add-ons: Docking stations, external drives or speakers enable broader applications.
In addition to the above options for enhancing your experience with electronic devices by using compatible accessories that augment their capabilities in different use cases.
Did you know that the first computer mouse in 1968 was an optional accessory for a computer called "The Mother of All Demos"? Though it wasn't immediately popularized until the 1980s when Apple integrated it with their computers. It's unbelievable how far we've come!
Video editing software compatibility? More like a game of Tetris trying to fit all the pieces together.
Software Compatibility for Video Editing and Sharing
With the increasing trend of video content creation and sharing, it's crucial to understand software compatibility for editing and distribution. Here are some software options with their corresponding supported file formats and the required system specifications:
| Software | Supported File Formats | System Requirements |
| --- | --- | --- |
| iMovie | MPEG-4, QuickTime MOV, AVCHD, DV, HDV, 3GPP, HEVC (macOS only) | macOS – High Sierra or later iOS – iOS 13.2 or later |
| Adobe Premiere Pro | AAC, AIFF, AVC-Intra, AVI, DNxHD/DNxHR, H.264/AVC/HEVC, MXF, MPEG-1, MPEG-2, MPEG-4 | Windows/macOS – Multicore processor with 64-bit support, RAM -8 GB of RAM (16 GB recommended), Hard disk space -8GB available storage |
| Davinci Resolve | QuickTime, AVI, R3D, MXF, Prores, DNXHD, RAW, MPEG-4, H.264, HEVC | Windows/ macOS/ Linux – 16 GB of system memory. Blackmagic Design Desktop Video version 10.4.1 or later |
I may not be able to afford the Sony Handycam HDR-CX405, but at least I have good compatibility with my trusty smartphone and a steady hand.
Pricing and Availability of the Sony Handycam HDR-CX405
To know if the Sony Handycam HDR-CX405 is worth buying, compare its pricing and availability with other models in the Sony Handycam lineup. Find out where to buy it to get the most value for your money.
Comparison to Other Models in the Sony Handycam Lineup
To fully understand the offerings of the Sony Handycam range, it's necessary to compare the HDR-CX405 with other models in the lineup. Here's an analysis of significant differences and similarities in terms of pricing, features, and technical specifications.
HDR-CX405
HDR-CX440
HDR-PJ675
Price (USD)
$229.99
$299.99
$599.99
Optical Zoom (x)
30
30
30
+ projector feature
(13lm)
The HDR-PJ675 has relatively low light performance in its projector software.
This combined with its high price tag makes it less attractive for casual users.
If your primary use for the Handycam is videography, you can opt for either the HDR-CX405 or HDR-CX440 depending on your overall budget.
All roads lead to the Sony Handycam HDR-CX405, but luckily you can find it at your nearest electronics store.
Where to Buy the Sony Handycam HDR-CX405
This model of Sony Handycam HDR-CX405 has been released in the market and is available for purchase at various authorized sellers and online retailers. The product can be easily found in electronic stores or on leading e-commerce platforms. These platforms offer customers competitive pricing, special discounts and instant delivery options.
If you are looking to purchase this advanced handheld video camera, you can conveniently explore these various platforms to find attractive deals and discounts. Check out online forums that provide reviews of the product before making a purchase to understand the quality and features in detail.
Unique details such as superior image stabilization technology, 26.8mm wide-angle lens, 50x optical zoom capability, AVCHD recording format that gives HD quality footage, built-in USB cable and compatibility with Memory Stick Micro (M2) cards adds great value to this handheld video camera.
Sony has been in the electronics industry for several decades catering to camera enthusiasts globally. With innovation at its core, Sony's range of products has always stood above competition providing excellent professional and consumer-oriented cameras that cater to specific needs.
Capture your memories in high definition, not your wallet's demise – the Sony Handycam HDR-CX405 is worth every penny.
Conclusion: Is the Sony Handycam HDR-CX405 Worth Buying?
The Sony Handycam HDR-CX405 is definitely worth the investment. It offers an impressive optical zoom, high image quality, and ease of use.
Moreover, its built-in image stabilization system delivers smooth footage, which is great for filming on-the-go. Additionally, the wide-angle lens allows you to capture more in frame, making it ideal for vlogging or documenting your travels.
One thing to note is that the camera's battery life can be limited if used extensively. Therefore, it's advisable to carry an extra battery pack while shooting.
Pro Tip: If you're looking for a compact handheld camera that produces high-quality video footage without breaking the bank, then Sony Handycam HDR-CX405 is your optimal pick.
Frequently Asked Questions
Q: What type of sensor does the Sony Handycam HDR-CX405 have?
A: The Sony Handycam HDR-CX405 has a 1/5.8-inch Exmor R CMOS sensor.
Q: Is the Sony Handycam HDR-CX405 compatible with external microphones?
A: Yes, the Sony Handycam HDR-CX405 has a built-in microphone, as well as a 3.5mm mic input for an external microphone.
Q: What is the maximum video resolution of the Sony Handycam HDR-CX405?
A: The Sony Handycam HDR-CX405 can shoot Full HD video at 1080p resolution.
Q: What is the zoom range of the Sony Handycam HDR-CX405?
A: The Sony Handycam HDR-CX405 has a 30x optical zoom, as well as a 60x clear image zoom and a 350x digital zoom.
Q: Can the Sony Handycam HDR-CX405 shoot photos as well as video?
A: Yes, the Sony Handycam HDR-CX405 can shoot 9.2MP still photos.
Q: Does the Sony Handycam HDR-CX405 have built-in WiFi or NFC?
A: No, the Sony Handycam HDR-CX405 does not have built-in WiFi or NFC connectivity.